Motorola MC3090 - Motorola MC3190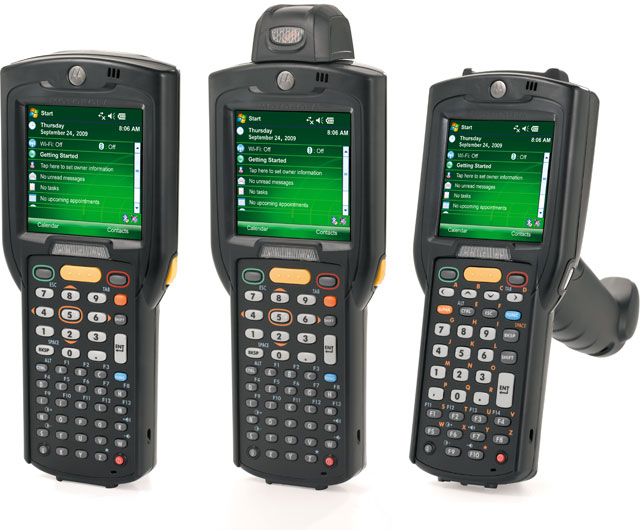 Buy - MC3090 and MC3190 scanners and all accessories stocked in volume.
Repair - Simple and Economic repair solutions for MC3090 and MC3190 scanners.
Rent - MC3090 and MC3190 scanner systems tailored to your application - in small, medium, and large quantity. Fulfill industries' seasonal / cyclical business fluctuations.
Enter your details below and we will provide pricing ASAP!
Support, Detail, and Quality that you expect from a specialist.
Email:
sales@usedbarcode.net
Phone: (770) 973-2862
- Testimonials Below.
- Warranty.
Testimonials :
"Fast shipment and great costumer service. Far beyond expectations. You can buy anything from EDR ! They will walk you through until unit up and running!" - Michael 5/1/13
"I would highly recommend this seller to anyone who asks. Prompt, accurate, overall smooth transaction" - Ken 2/14/14
"Provided courteous and helpful advice by phone for setup; totally above and beyond others. Items perfect and as described." - Eric 3/28/14
If you are looking for additional refurbished scanners, portable data capture terminals, and accessories - we invite you to browse our Extensive Inventory. Here you'll find that we carry the Stock to add superior value and savings to specialized enterprise technology hardware intiatives, no matter the scope of the client or project.
The Motorola MC3190 and MC3090 is also known as Symbol MC3190, Motorola MC 3190, Symbol MC 3190, Motorola MC3190-G (gun), Motorola MC3190-R (rotating head), Motorola MC3190-S (straight shooter), MC3090G, MC3090R, MC3090S, MC3190-G, MC3190-R, MC3190-S, The Motorola MC3090 and Motorola MC3190 Series, also known as the Symbol MC3090 and MC3190 Series brings cost-effective mobility and user comfort to key-based applications within the four walls.

| Cond | Mfg | Cat | Part Number | Description |
| --- | --- | --- | --- | --- |
| NIB | Symbol | Mobile Computer | MC3190-RL3S02E0U | ROTATING HEAD, 1D, WLAN, BT, COLOR, 128/512 MB, 38-KEY, CE6.0, HIGH CAPACITY, US |
| NIB | Symbol | Mobile Computer | MC3190-RL3S02EIU | ROTATING HEAD, 1D, WLAN, BT, COLOR, 128/512 MB, 38-KEY, CE6.0, INTERACTIVE SENSOR TECHNOLOGY, NON-US |
| NIB | Symbol | Mobile Computer | MC3190-RL3S12E0U | ROTATING HEAD, 1D, WLAN, BT, COLOR, 128/512 MB, 38-KEY, WM6.0, US |
| NIB | Symbol | Mobile Computer | MC3190-RL4S02E0U | ROTATING HEAD, 1D, WLAN, BT, COLOR, 128/512 MB, 48-KEY, CE6.0, US |
| NIB | Symbol | Mobile Computer | MC3190-RL4S12E0U | ROTATING HEAD, 1D, WLAN, BT, COLOR, 128/512 MB, 48-KEY, WM6.0, US |
| NIB | Symbol | Mobile Computer | MC3190-GL2H02EIU | GUN, 1D, WLAN, BT, COLOR, 128/512 MB, 28-KEY, CE6.0, HIGH CAPACITY, INTERACTIVE SENSOR TECHNOLOGY, US |
| NIB | Symbol | Mobile Computer | MC3190-GL3H02E0U | GUN, 1D, WLAN, BT, COLOR, 128/512 MB, 38-KEY, CE6.0, HIGH CAPACITY, US |
| NIB | Symbol | Mobile Computer | MC3190-GL3H12E0U | GUN, 1D, WLAN, BT, COLOR, 128/512 MB, 38-KEY, WM6.0, HIGH CAPACITY, US |
| NIB | Symbol | Mobile Computer | MC3190-GL4H02E0U | GUN, 1D, WLAN, BT, COLOR, 128/512 MB, 48-KEY, CE6.0, HIGH CAPACITY, US |
| NIB | Symbol | Mobile Computer | MC3190-GL4H12E0U | GUN, 1D, WLAN, BT, COLOR, 128/512 MB, 48-KEY, WM6.0, HIGH CAPACITY,US |
| NIB | Symbol | Mobile Computer | MC3190-SL4H12E0U | STRAIGHT SHOOTER, 1D, WLAN, BT, COLOR, 128/512 MB,48-KEY, WM6.0, HIGH CAPACITY |
| NIB | Symbol | Mobile Computer | MC3190-SL3H12E0U | STRAIGHT SHOOTER, 1D, WLAN, BT, COLOR, 128/512 MB, 38-KEY, WM6.0, HIGH CAPACITY |
| NIB | Symbol | Mobile Computer | MC3190-SL3H02E0U | STRAIGHT SHOOTER, 1D, WLAN, BT, COLOR, 128/512 MB, 38-KEY, CE6.0, HIGH CAPACITY |
| NIB | Symbol | Mobile Computer | MC3190-GI3H02EOU | GUN, WLAN, BT, 2D, 38 KEY, 2X, WINDOWS CE 6, US |
| NIB | Symbol | Mobile Computer | MC3190-GI4H12EOU | GUN, WLAN, BT, 2D, 48 KEY, 2X, WINDOWS MOBILE 6, US |