Motorola MC55 - Motorola MC55A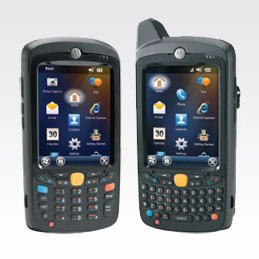 Buy - MC55 and MC55A PDA's, along with accessories stocked in volume!

Repair - Simple and economic repair solutions for MC55 and MC55A Handhelds.
Rent - MC55 scanner systems tailored to your application - in small, medium, and large quantity. Fulfill your seasonal / cyclical business fluctuations.
Enter your details below and we will provide pricing ASAP! Email: sales@usedbarcode.net

Support, Detail, and Quality that you expect from a specialist. Phone: (770) 973-2862

- Testimonials Below.
- Warranty Options.
Testimonials :
"Fast shipment and great costumer service. Far beyond expectations. You can buy anything from EDR ! They will walk you through until unit up and running!" - Michael 5/1/13
"I would highly recommend this seller to anyone who asks. Prompt, accurate, overall smooth transaction" - Ken 2/14/14
"Provided courteous and helpful advice by phone for setup; totally above and beyond others. Items perfect and as described." - Eric 3/28/14
If you are looking for additional refurbished scanners, portable data capture terminals, and accessories - we invite you to browse our Extensive Inventory. Here you'll find that we carry the Stock to add superior value and savings to specialized enterprise technology hardware intiatives, no matter the scope of the client or project.
The Motorola MC55, is also known as the Motorola MC55A, Motorola MC5574, MC 55, Motorola MC 55, Symbol Motorola MC 55, Symbol MC-55, Motorola MC-55, Symbol Motorola MC-55, Symbol MC5590, Motorola MC55A0, Symbol Motorola MC55A, Symbol MC 55A, Motorola MC 5590, Symbol Motorola MC5590, MC55A0, MC55A, MC55, MC5590, MC5574, MC55A0-P, MC65.
| Cond | Mfg | Cat | Part Number | Description |
| --- | --- | --- | --- | --- |
| Used | Symbol | Mobile Computer | MC5590-PZ0DKNQA7WR | MC5590, L/P, 2D, Camera, 128/256, PIM, Windows Mobile 6.1,1X |
| Used | Symbol | Mobile Computer | MC5590-PU0DUQQA9WR | MC5590, 802.11a/b/g, Bluetooth, 1D Laser, 128MB RAM/512MB Flash, QWERTY Keyboard, Windows Mobile 6.1 Classic, Color QVGA, 3600 mAh Battery. Cradle and cables not included. See accessories. |
| Used | Symbol | Mobile Computer | MC5590-PY0DUQQA9WR | MC5590, WLAN 802.11a/b/g, Color Touchscreen, 1D laser scanner, Camera, 128MB/256MB, Windows Mobile 6.1, QWERTY keypad, Bluetooth and 3600 mAh / 1.5x battery. Cradle and cables not included. See accessories. |
| Used | Symbol | Mobile Computer | MC5590-PU0DUNQA7WR | MC5590, LAN 802.11a/b/g / Bluetooth PAN 1D Laser Scanner, 128MB RAM/512MB Flash, PIM Keyboard, Windows Mobile 6.1 Classic, Standard 2400 mAh Battery |
| Used | Symbol | Mobile Computer | MC5574-PYCDKQRA9WR | MC5574, TERM: WLP, 1D, Camera, 128/256, QWERTY, Windows Mobile 6.1,1.5X |
| Used | Symbol | Mobile Computer | MC5590-PY0DKRQA9WR | MC5590, TERM: L/P, 1D, Camera, 128/256 NUM, Windows Mobile 6.1,1.5X |
| Used | Symbol | Mobile Computer | MC5574-P7CDUQRA9WR | MC5574, SiRF III Integrated GPS, GPRS/EDGE, 802.11 b/g, 2D Dot Imager & Camera, QWERTY Keypad, Color Display, Windows Mobile 6.1 Professional, 128/512, Bluetooth, 1.5x Battery |
| Used | Symbol | Mobile Computer | MC5574-P7CDURRA9WR | MC5574, SiRF III Integrated GPS, GPRS/EDGE, 802.11 b/g, 2D Dot Imager & Camera, Numeric Keypad, Color Display, Windows Mobile 6.1 Professional, 128/512, Bluetooth, 1.5x Battery |
| Used | Symbol | Mobile Computer | MC5574-PKCDUQRA9WR | MC5574, SiRF III Integrated GPS, GPRS/EDGE, 802.11 b/g, 2D Pico Imager, QWERTY Keypad, Color Display, Windows Mobile 6.1 Professional, 128/512, Bluetooth, 1.5x Battery |
| Used | Symbol | Mobile Computer | MC5574-PKCDURRA9WR | MC5574, SiRF III Integrated GPS, GPRS/EDGE, 802.11 b/g, 2D Pico Imager, Numeric Keypad, Color Display, Windows Mobile 6.1 Professional, 128/512, Bluetooth, 1.5x Battery |
| Used | Symbol | Mobile Computer | MC5574-PUCDUQRA9WR | MC5574, SiRF III Integrated GPS, GPRS/EDGE, 802.11 b/g, 1D Laser Scanner, QWERTY Keypad, Color Display, Windows Mobile 6.1 Professional, 128/512, Bluetooth, 1.5x Battery |
| Used | Symbol | Mobile Computer | MC5574-PUCDURRA9WR | MC5574, SiRF III Integrated GPS, GPRS/EDGE, 802.11 b/g, 1D Laser Scanner, Numeric Keypad, Color Display, Windows Mobile 6.1 Professional, 128/512, Bluetooth, 1.5x Battery |
| Used | Symbol | Mobile Computer | MC5574-PYCDUQRA9WR | MC5574, SiRF III Integrated GPS, GPRS/EDGE, 802.11 b/g, 1D Laser Scanner & Camera, QWERTY Keypad, Color Display, Windows Mobile 6.1 Professional, 128/512, Bluetooth, 1.5x Battery |
| Used | Symbol | Mobile Computer | MC5574-PYCDURRA9WR | MC5574, SiRF III Integrated GPS, GPRS/EDGE, 802.11 b/g, 1D Laser Scanner & Camera, Numeric Keypad, Color Display, Windows Mobile 6.1 Professional, 128/512, Bluetooth, 1.5x Battery |
| Used | Symbol | Mobile Computer | MC5574-PZCDUQRA9WR | MC5574, SiRF III Integrated GPS, GPRS/EDGE, 802.11 b/g, 2D Pico Imager & Camera, QWERTY Keypad, Color Display, Windows Mobile 6.1 Professional, 128/512, Bluetooth, 1.5x Battery |
| Used | Symbol | Mobile Computer | MC5574-PZCDURRA9WR | MC5574, SiRF III Integrated GPS, GPRS/EDGE, 802.11 b/g, 2D Pico Imager & Camera, Numeric Keypad, Color Display, Windows Mobile 6.1 Professional, 128/512, Bluetooth, 1.5x Battery |
| Used | Symbol | Mobile Computer | MC5590-PU0DURQA7WR | MC5590, 802.11a/b/g, Bluetooth, 1D Laser, 128MB RAM/512MB Flash, Numeric Keyboard, Windows Mobile 6.1 Classic, Color QVGA, 2400 mAh Battery |
| Used | Symbol | Mobile Computer | MC5590-PU0DURQA9WR | MC5590, 802.11a/b/g, Bluetooth, 1D Laser, 128MB RAM/512MB Flash, Numeric Keyboard, Windows Mobile 6.1 Classic, Color QVGA, 3600 mAh Battery |
| Used | Symbol | Mobile Computer | MC5590-PY0DURQA7WR | MC5590, 802.11a/b/g, Bluetooth, 1D Laser, 2MP Camera, 128MB RAM/512MB Flash, Numeric Keyboard, Windows Mobile 6.1 Classic, Color QVGA, 2400 mAh Battery |
| Used | Symbol | Mobile Computer | MC5590-PU0DUNQA9WR | MC5590, 802.11a/b/g, Bluetooth, 1D Laser, 128MB RAM/512MB Flash, PIM Keyboard, Windows Mobile 6.1 Classic, Color QVGA, 3600 mAh Battery |
| Used | Symbol | Mobile Computer | MC5590-PU0DUQQA7WR | MC5590, 802.11a/b/g, Bluetooth, 1D Laser, 128MB RAM/512MB Flash, QWERTY Keyboard, Windows Mobile 6.1 Classic, Color QVGA, 2400 mAh Battery |
| Used | Symbol | Mobile Computer | MC5590-PY0DUNQA7WR | MC5590, 802.11a/b/g, Bluetooth, 1D Laser, 2MP Camera, 128MB RAM/512MB Flash, PIM Keyboard, Windows Mobile 6.1 Classic, Color QVGA, 2400 mAh Battery |
| Used | Symbol | Mobile Computer | MC5590-PY0DUQQA7WR | MC5590, 802.11a/b/g, Bluetooth, 1D Laser, 2MP Camera, 128MB RAM/512MB Flash, QWERTY Keyboard, Windows Mobile 6.1 Classic, Color QVGA, 2400 mAh Battery |
| Used | Symbol | Mobile Computer | MC5590-P30DURQA7WR | MC5590, 802.11a/b/g, Bluetooth, 2D SE4500,128MB RAM/512MB Flash, Numeric Keyboard, Windows Mobile 6.1 Classic, Color QVGA, 2400 mAh Battery |
| Used | Symbol | Mobile Computer | MC5590-P30DURQA9WR | MC5590, 802.11a/b/g, Bluetooth, 2D SE4500,128MB RAM/512MB Flash, Numeric Keyboard, Windows Mobile 6.1 Classic, Color QVGA, 3600 mAh Battery |
| Used | Symbol | Mobile Computer | MC5590-P40DURQA7WR | MC5590, 802.11a/b/g, Bluetooth, 2D SE4500, 2MP Camera, 128MB RAM/512MB Flash, Numeric Keyboard, Windows Mobile 6.1 Classic, Color QVGA, 2400 mAh Battery |
| Used | Symbol | Mobile Computer | MC5590-P30DUNQA7WR | MC5590, 802.11a/b/g, Bluetooth, 2D SE4500,128MB RAM/512MB Flash, PIM keyboard, Windows Mobile 6.1 Classic, Color QVGA, 2400 mAh Battery |
| Used | Symbol | Mobile Computer | MC5590-P30DUQQA7WR | MC5590, 802.11a/b/g, Bluetooth, 2D SE4500,128MB RAM/512MB Flash, QWERTY Keyboard, Windows Mobile 6.1 Classic, Color QVGA, 2400 mAh Battery |
| Used | Symbol | Mobile Computer | MC5590-P30DUQQA9WR | MC5590, 802.11a/b/g, Bluetooth, 2D SE4500,128MB RAM/512MB Flash, QWERTY Keyboard, Windows Mobile 6.1 Classic, Color QVGA, 3600 mAh Battery |
| Used | Symbol | Mobile Computer | MC5590-P40DUQQA7WR | MC5590, 802.11a/b/g, Bluetooth, 2D SE4500, 2MP Camera, 128MB RAM/512MB Flash, QWERTY Keyboard, Windows Mobile 6.1 Classic, Color QVGA, 2400 mAh Battery |
| Used | Symbol | Mobile Computer | MC5590-PU0DKQQA7WR | MC5590, LAN 802.11a/b/g / Bluetooth PAN, 1D Laser Scanner, 128MB RAM/256MB Flash, QWERTY Keyboard, Windows Mobile 6.1 Classic, Color QVGA, Standard 2400 mAh Battery |
| Used | Symbol | Mobile Computer | MC5590-PK0DKQQA7WR | MC5590, LAN 802.11a/b/g / Bluetooth PAN, 2D Pico Imager, 128MB RAM/256MB Flash, QWERTY Keyboard, Windows Mobile 6.1 Classic, Color QVGA, Standard 2400 mAh Battery |
| Used | Symbol | Mobile Computer | MC5590-PK0DKQQA7WR-KIT | MC5590 Complete Kit, Includes MC5590 and everything you need to run the unit: MC5590-PK0DKQQA7WR, charging/communications cradle, USB cable, US power supply and AC line cord. |
| Used | Symbol | Mobile Computer | MC5590-PK0DKQQA9WR | MC5590, LAN 802.11a/b/g / Bluetooth PAN, 2D Pico Imager, 128MB RAM/256MB Flash QWERTY Keyboard, Windows Mobile 6.1 Classic, Extended 3600 mAh Battery |
| Used | Symbol | Mobile Computer | MC5590-PK0DKQQA9WR-KIT | MC5590 Complete Kit, Includes MC5590 and everything you need to run the unit: MC5590-PK0DKQQA9WR, charging/communications cradle, USB cable, US power supply and AC line cord. |
| Used | Symbol | Mobile Computer | MC5590-PY0DKQQA7WR | MC5590, LAN 802.11a/b/g / Bluetooth PAN, 1D Laser Scanner, 2MP Auto focus Camera, 128MB RAM/256MB Flash, QWERTY Keyboard, Windows Mobile 6.1 Classic, Color QVGA, Standard 2400 mAh Battery |
| Used | Symbol | Mobile Computer | MC5590-PZ0DKQQA7WR | MC5590, LAN 802.11a/b/g / Bluetooth PAN, 2D Pico Imager, 2MP Auto focus Camera, 128MB RAM/256MB Flash, QWERTY Keyboard, Windows Mobile 6.1 Classic, Color QVGA, Standard 2400 mAh Battery |
| Used | Symbol | Mobile Computer | MC5590-PU0DKRQA7WR | MC5590, LAN 802.11a/b/g / Bluetooth PAN, 1D Laser Scanner, 128MB RAM/256MB Flash, Numeric Keyboard, Windows Mobile 6.1 Classic, Color QVGA, Standard 2400 mAh Battery |
| Used | Symbol | Mobile Computer | MC5590-PU0DKRQA7WR-KIT | MC5590 Complete Kit, Includes MC5590 and everything you need to run the unit: MC5590-PU0DKRQA7WR, charging/communications cradle, USB cable, US power supply and AC line cord. |
| Used | Symbol | Mobile Computer | MC5590-PU0DKRQA9WR | MC5590, LAN 802.11a/b/g / Bluetooth PAN 1D Laser Scanner, 128MB RAM/256MB Flash, NUMERIC Keyboard, Windows Mobile 6.1 Classic, Extended 3600 mAh Battery |
| Used | Symbol | Mobile Computer | MC5590-PK0DKRQA7WR | MC5590, LAN 802.11a/b/g / Bluetooth PAN, 2D Pico Imager, 128MB RAM/256MB Flash, NUMERIC Keyboard, Windows Mobile 6.1 Classic, Color QVGA, Standard 2400 mAh Battery |
| Used | Symbol | Mobile Computer | MC5590-PY0DKRQA7WR | MC5590, LAN 802.11a/b/g / Bluetooth PAN, 1D Laser Scanner, 2MP Auto focus Camera, 128MB RAM/256MB Flash, NUMERIC Keyboard, Windows Mobile 6.1 Classic, Color QVGA, Standard 2400 mAh Battery |
| Used | Symbol | Mobile Computer | MC5590-PZ0DKRQA7WR | MC5590, LAN 802.11a/b/g / Bluetooth PAN, 2D Pico Imager, 2MP Auto focus Camera, 128MB RAM/256MB Flash, NUMERIC Keyboard, Windows Mobile 6.1 Classic, Color QVGA, Standard 2400 mAh Battery |
| Used | Symbol | Mobile Computer | MC5590-PY0DKZQG6WR | MC5590, L/P, 1D, Camera, 128/256, QRTZ, GR, Windows Mobile 6.1,1X |
| Used | Symbol | Mobile Computer | MC5590-PY0DKYQF6WR | MC5590, L/P, 1D, Camera, 128/256, AZRT, FR, Windows Mobile 6.1,1X |
| Used | Symbol | Mobile Computer | MC5590-PU0DKNQA7WR | MC5590, L/P, 1D, 128/256, PIM, Windows Mobile 6.1,1X |
| Used | Symbol | Mobile Computer | MC5590-PU0DKNQA9WR | MC5590, L/P, 1D, 128/256, PIM, Windows Mobile 6.1,1.5X |
| Used | Symbol | Mobile Computer | MC5590-PK0DKNQA7WR | MC5590, L/P, 2D, 128/256, PIM, Windows Mobile 6.1,1X |
| Used | Symbol | Mobile Computer | MC5590-PY0DKNQA7WR | MC5590, L/P, 1D, Camera, 128/256, PIM, Windows Mobile 6.1,1X |
| Used | Symbol | Mobile Computer | MC5590-PY0DKNQA9WR | MC5590, LAN 802.11a/b/g / Bluetooth PAN, 1D Laser Scanner, 2MP Auto focus Camera, 128MB RAM/256MB Flash, PIM Keyboard, Windows Mobile 6.1 Classic, Extended 3600 mAh Battery |
| Used | Symbol | Mobile Computer | MC5574-P7CDKQRA7WR | MC5574, Wireless EDA (SiRF III Integrated GPS, GPRS/EDGE, 802.11b/g, 2D Dot Imager and Camera, QWERTY Keypad, Color Display, Windows Mobile 6.1 Professional, 128/256, Bluetooth and 1x Battery) |
| Used | Symbol | Mobile Computer | MC5574-P7CDKQRA9WR | MC5574, Wireless EDA (Terminal: with L/P, Dot, Camera, 128/256, QWERTY, WM61 and 1.5) |
| Used | Symbol | Mobile Computer | MC5574-P7CDKRRA7WR | MC5574, Wireless EDA (SiRF III Integrated GPS, GPRS/EDGE, 802.11b/g, 2D Dot Imager and Camera, Numeric Keypad, Color Display, Windows Mobile 6.1 Professional, 128/256, Bluetooth and 1x Battery) |
| Used | Symbol | Mobile Computer | MC5574-PKCDKQRA7WR | MC5574, LAN 802.11 b/g / Bluetooth PAN, 2D Pico Imager, 128MB RAM/256MB Flash, QWERTY Keyboard, Windows Mobile 6.1 Pro, SiRF III Integrated GPS, GPRS/EDGE, Color Display and 1x Battery |
| Used | Symbol | Mobile Computer | MC5574-PKCDKRRA7WR | MC5574, Wireless EDA (SiRF III Integrated GPS, GPRS/EDGE, 802.11b/g, 2D Pico Imager, Numeric Keypad, Color Display, Windows Mobile 6.1 Professional, 128/256, Bluetooth and 1x Battery) |
| Used | Symbol | Mobile Computer | MC5574-PKCDKRRA9WR | MC5574, Wireless EDA (SiRF III Integrated GPS, GPRS/EDGE, 802.11b/g, 2D Pico Imager, Numeric Keypad, Color Display, Windows Mobile 6.1 Professional, 128/256, Bluetooth and 1.5x Battery) |
| Used | Symbol | Mobile Computer | MC5574-PUCDKQRA7WR | MC5574, Wireless EDA (SiRF III Integrated GPS, GPRS/EDGE, 802.11b/g, 1D Laser Scanner, QWERTY Keypad, Color Display, Windows Mobile 6.1 Professional, 128/256, Bluetooth and 1x Battery) |
| Used | Symbol | Mobile Computer | MC5574-PUCDKQRA9WR | MC5574, Wireless EDA (SiRF III Integrated GPS, GPRS/EDGE, 802.11b/g, 1D Laser Scanner, QWERTY Keypad, Color Display, Windows Mobile 6.1 Professional, 128/256, Bluetooth and 1.5x Battery) |
| Used | Symbol | Mobile Computer | MC5574-PUCDKRRA7WR | MC5574, Wireless EDA (SiRF III Integrated GPS, GPRS/EDGE, 802.11b/g, 1D Laser Scanner, Numeric Keypad, Color Display, Windows Mobile 6.1 Professional, 128/256, Bluetooth and 1x Battery) |
| Used | Symbol | Mobile Computer | MC5574-PYCDKQRA7WR | MC5574, Wireless EDA (SiRF III Integrated GPS, GPRS/EDGE, 802.11b/g, 1D Laser Scanner and Camera, QWERTY Keypad, Color Display, Windows Mobile 6.1 Professional, 128/256, Bluetooth and 1x Battery) |
| Used | Symbol | Mobile Computer | MC5574-PYCDKRRA7WR | MC5574, Wireless EDA (SiRF III Integrated GPS, GPRS/EDGE, 802.11b/g, 1D Laser Scanner and Camera, Numeric Keypad, Color Display, Windows Mobile 6.1 Professional, 128/256, Bluetooth and 1x Battery) |
| Used | Symbol | Mobile Computer | MC5574-PZCDKQRA7WR | MC5574, Wireless EDA (SiRF III Integrated GPS, GPRS/EDGE, 802.11b/g, 2D Pico Imager and Camera, QWERTY Keypad, Color Display, Windows Mobile 6.1 Professional, 128/256, Bluetooth and 1x Battery) |
| Used | Symbol | Mobile Computer | MC5574-PZCDKRRA7WR | MC5574, Wireless EDA (SiRF III Integrated GPS, GPRS/EDGE, 802.11b/g, 2D Pico Imager and Camera, Numeric Keypad, Color Display, Windows Mobile 6.1 Professional, 128/256, Bluetooth and 1x Battery) |
| Used | Symbol | Mobile Computer | MC5590-PK0DKRQA9WR | MC5590, Wireless Enterprise Digital Assistant (LAN 802.11a/b/g, Bluetooth PAN, 2D Pico Imager, 128MB RAM/256MB Flash, Numeric Keyboard, Windows Mobile 6.1 Classic and Extended 3600 mAh Battery) |
| Used | Symbol | Mobile Computer | MC5574-PYCDKRRA9WR | MC5574, Wireless EDA (SiRF III Integrated GPS, GPRS/EDGE, 802.11b/g, 1D Laser Scanner, Camera, Numeric Keypad, Color Display, Windows Mobile 6.1 Professional, 128/256, Bluetooth, 1.5x Battery) |
| Used | Symbol | Mobile Computer | MC5574-PYCDKYRF6WR | MC5574, Wireless EDA (SiRF III Integrated GPS, GPRS/EDGE, 802.11b/g, 1D laser Scanner and Camera, AZERTY French Keypad, Color Display, Windows Mobile 6.1 Professional, 128/256, Bluetooth, 1x Battery) |
| NIB | Symbol | Mobile Computer | MC5590-P80DUQQA9WR | L/P, 2D, DL BB, 128/512, QWERTY, 1.5X, WIDOWS MOBILE 6.5 |
| NIB | Symbol | Mobile Computer | MC5590-PU0DUQQA9WR | L/P, 1D, 128/512, QWERTY, WINDOWS MOBILE 6.5, 1.5X |