Motorola MC75 - Motorola MC75A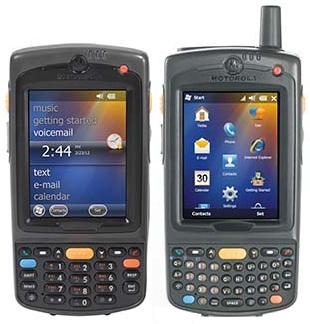 Buy - MC75 and MC75A scanners, chargers, accessories stocked in volume!

Repair - Simple and Economic repair solutions for MC75 and MC75A scanners.

Rent - MC75 scanner systems tailored to your application - in small, medium, and large quantity. Fulfill your seasonal / cyclical business fluctuations.
Enter your details below and we will provide immediate service! Email: sales@usedbarcode.net Detail, Quality, and Answers that you expect from a specialist. Phone: (770) 973-2862
- Testimonials Below.
- Warranty.
- 30-Day Money Back Guarantee.
Testimonials :
"Called Enterprise Data Resources for some information on my Motorola equipment, and their Technical support is by far, the best we have encountered. With well asked question got to the bottom of our issues. Not only that, the suggestion made from the tech actually solved our longtime mystery." - Efren 6/19/2014
"Fast shipment and great costumer service. Far beyond expectations. You can buy anything from EDR ! They will walk you through until unit up and running!" - Michael 5/1/13
"I would highly recommend this seller to anyone who asks. Prompt, accurate, overall smooth transaction" - Ken 2/14/14
"Provided courteous and helpful advice by phone for setup; totally above and beyond others. Items perfect and as described." - Eric 3/28/14
Your workers will enjoy having all the features they need right at their fingertips in one device designed to endure all day everyday use outside the enterprise -- including push-to-talk, integrated GPS with superior sensitivity and tracking capabilities, 1D or 2D bar code scanning, a high resolution 2 megapixel autofocus digital color camera, 802.11a/b/g wireless LAN (WLAN), Bluetooth and IrDA connectivity.
Rugged, lightweight design
Passes drop-and-tumble tests, with integrated antenna and IP54 sealing; Meets & exceeds applicable MIL�STD & IEC specifications.

Powerful microprocessor
Maximizes mobility, giving desktop-like performance with minimal power use.

Increased interoperability
Enabled through Windows® Mobile 6.5, with advanced security, a flexible development platform and improved mobile messaging.

3G WWAN capability
Delivers high broadband and voice data performance anywhere in the world.
Connects to most worldwide carriers
Download speeds of up to 3 Mbps
Integrated voice and data
Future-proofed and affordable

WLAN and VoIP support
Provides cost-effective connectivity in offices and hot spots.

Assisted and autonomous GPS support
Enables robust location-based applications, boosts signals in weak areas and increasing time to first fix (TTFF).

WPAN and IrDA
Helps connect wirelessly to modems, printers and headsets, as well as legacy business equipment.

High-definition VGA display
Supports high-resolution images such as video, and remains easy to view in any lighting.

Backwards compatibility
Utilizes MC70 EDA accessories suite

Multiple keyboard options
Includes Numeric, QWERTY, DSD,QWERTZ and AZERTY keyboards.

External WWAN antenna
Improves signal reception and makes connections more dependable.

Robust memory space
Supports 128MB RAM; 512MB Flash memory footprint

Rugged
IP54
The Symbol MC75, is also known as the Motorola MC75, Symbol Motorola MC75, Symbol MC 75, Motorola MC 75, Symbol Motorola MC 75, Symbol MC-75, Motorola MC-75, Symbol Motorola MC-75, Symbol MC7596, Motorola MC7596, Symbol Motorola MC7596, Symbol MC 7596, Motorola MC 7596, Symbol Motorola MC 7596, Symbol MC7598, Motorola MC7598, Symbol Motorola MC7598, Symbol MC 7598, Motorola MC 7598, Symbol Motorola MC 7598, Symbol MC75A, Motorola MC75A, Symbol Motorola MC75A, MC75A, MC 75A, MC-75A, MC7596, MC 7596, MC-7596, MC7598, MC 7598, MC-7598, MC75A6, MC75A8, MC75A0.