Motorola MC9060 - Symbol MC9060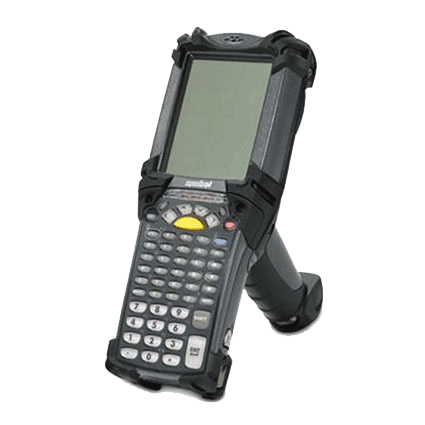 Buy - MC9060 scanners, and chargers / accessories stocked in volume!
Repair - Simple and Economic repair solutions for MC9060 scanners.
Rent - MC9060 scanner systems tailored to your application - in small, medium, and large quantity. Fulfill your seasonal / cyclical business fluctuations.
Enter your details below and we will provide pricing ASAP! Email: sales@usedbarcode.net

Support, Detail, and Quality that you expect from a specialist. Phone: (770) 973-2862

- Testimonials Below.
- Warranty.
Testimonials :
"Fast shipment and great costumer service. Far beyond expectations. You can buy anything from EDR ! They will walk you through until unit up and running!" - Michael 5/1/13
"I would highly recommend this seller to anyone who asks. Prompt, accurate, overall smooth transaction" - Ken 2/14/14
"Provided courteous and helpful advice by phone for setup; totally above and beyond others. Items perfect and as described." - Eric 3/28/14
The rugged Symbol MC9060-G, Motorola MC9060-G delivers an unsurpassed choice of scanning and imaging technologies. You can select an integrated high-performance laser barcode scan engine or a feature-rich, powerful imager, depending on your application requirements. The MC9060-G (MC9000-G Series) features an innovative mechanical design that withstands multiple 6-foot drops to concrete. Its IP64 sealing rating makes it virtually impervious to dust and moisture in environments where intensive barcode scanning takes place. Multimode wireless communication offers real-time access to data anytime, anywhere.
The rugged Symbol MC9060-K, Motorola MC9060-K handheld brick unit is a highly configurable mobile computer for delivering real-time visibility into your supply chain. With a wireless WAN-enabled configuration, three keypad options and a choice of color or monochrome display, you have maximum flexibility to create task-specific devices, which help your employees perform tasks faster and make more informed decisions. Ideal for your field, delivery, operations, warehouse or factory environments, the MC9060-K has a rugged design combined with superior processing performance, giving you the ability to deliver the right information to the right people at the time they need it.
The rugged Symbol MC9060-S, Motorola MC9060-S handheld "short" unit is designed for mobile field employees who require instant access to information to make the right decisions when time and accuracy matter. With personal, local and wide area networking capabilities, the MC9060-S device offers always-on connectivity to host systems for field technicians, route sales drivers, law enforcement officers and other on-the-move employees, so they respond rapidly and appropriately to any situation. The rugged device withstands demanding indoor and outdoor applications.
A Versatile, Powerful, Rugged Device with RFID Capability

The RFID, Symbol MC9060, Motorola MC9060 combines RFID, barcode reading, imaging, 802.11 connectivity, a full 1/4 VGA screen and alphanumeric keypad to give you the flexibility to give your organization real-time access to mission-critical information from key points in your supply chain. Enterprise-wide management and control of the MC9060 RFID is easy with Symbol's Mobility Services Platform (MSP).
The Symbol MC9060 is also known as Motorola MC9060, Symbol MC 9060, Motorola MC 9060, Symbol MC9060-G (gun), Motorola MC9060-G (gun), Symbol MC 9060-G (gun), Motorola MC 9060-G (gun), MC9060, MC 9060, MC9063, MC 9063, MC9062, MC 9062, MC9060-G, MC 9060-G, Symbol MC9062, Symbol MC9063, Motorola MC9062, Motorola MC9063, Symbol Motorola MC9063, Symbol Motorola MC9060G, MC9060-K, MC9060K, MC9062-K, MC9063-K, Symbol MC9000, Symbol MC9060 G, Motorola MC9060 G.
| Cond | Mfg | Cat | Part Number | Description |
| --- | --- | --- | --- | --- |
| Used | Symbol | Mobile Computer | MC9060-SH0H9AEA4WW | MC9060-S, 128MB RAM, 802.11b, 28-key, Color Display, with Standard Range Scanner, Windows Mobile 2003 operating system |
| Used | Symbol | Mobile Computer | MC9060-SH0HBAEA450 | MC9060-S, 64MB RAM, 802.11b, 28-key, Color Display, with Standard Range Scanner, Windows Mobile 2003 operating system |
| Used | Symbol | Mobile Computer | MC9060-SH0HBAEA4WW | MC9060-S, 64MB RAM, 802.11b, 28-key, Color Display, with Standard Range Scanner, Windows Mobile 2003 operating system |
| Used | Symbol | Mobile Computer | MC9060-SH0JBAEA4WW | MC9060-S, 64MB RAM, 802.11b, 28-key, Monochrome Display, with Standard Range Scanner, Windows Mobile 2003 operating system |
| Used | Symbol | Mobile Computer | MC9060-SK0HBAEA4WW | MC9060-S, 64MB RAM, 802.11b, 28-key, Monochrome Display, with SE 824 Standard Range Scanner, Windows Mobile 2003 operating syste |
| Used | Symbol | Mobile Computer | MC9060-SK0HBAEA7WW | MC9060-S, 64MB RAM, 802.11b, 28-key, Color Display, with Imager, Windows Mobile 2003 operating system, Bluetooth |
| Used | Symbol | Mobile Computer | MC9062-SHAH9AEA4WW | MC9062-S, 128MB RAM, 802.11b, 28-key, Color Display, with Standard Range Scanner, Windows Mobile 2003 operating system and GPRS: |
| Used | Symbol | Mobile Computer | MC9062-SHBH9AEA7WW | MC9062-S, 128MB RAM, 802.11b, 28-key, Color Display, with Standard Range Scanner, Windows Mobile 2003 operating system, Bluetoot |
| Used | Symbol | Mobile Computer | MC9062-SKAH9AEA7WW | MC9062-S, 128MB RAM, 802.11b, 28-key, Color Display, with Imager, Windows Mobile 2003 operating system, Bluetooth |
| Used | Symbol | Mobile Computer | MC9062-SKBHBAEA7WW | MC9062-S, 64MB RAM, 802.11b, 28-key, Color Display, with Imager, Windows Mobile 2003 operating system, Bluetooth and GPRS: 900/1 |
| Used | Symbol | Mobile Computer | MC9063-SKEHBAEA4WW | MC9063-S, 64MB RAM, 802.11b, 28-key, Color Display, with Imager, Windows Mobile 2003 operating system and CDMA: Sprint |
| Used | Symbol | Mobile Computer | MC9060-KH0HBAEA4WW | MC9060-K, 64MB RAM, 802.11b, 28-key, Color Display, with Standard Range Scanner, Windows Mobile 2003 operating system |
| Used | Symbol | Mobile Computer | MC9060-KH0HBEEA4WW | MC9060-K, 64MB RAM, 802.11b, 53-key, Color Display, with Standard Range Scanner, Windows Mobile 2003 operating system |
| Used | Symbol | Mobile Computer | MC9060-KH0HBEEA7WW | MC9060-K, 64MB RAM, 802.11b, 53-key, Color Display, with Standard Range Scanner, Windows Mobile 2003 operating system, Bluetooth |
| Used | Symbol | Mobile Computer | MC9060-KH0HBFEA7WW | MC9060-K, 64MB RAM, 802.11b, 43-key, Color Display, with Standard Range Scanner, Windows Mobile 2003 operating system, Bluetooth |
| Used | Symbol | Mobile Computer | MC9060-KH0JBEB00WW | MC9060-K, 64MB RAM, 802.11b, 53-key, Monochrome Display, with Standard Range Scanner, Windows CE.NET operating system |
| Used | Symbol | Mobile Computer | MC9060-KH0JBEEA7WW | MC9060-K, 64MB RAM, 802.11b, 53-key, Monochrome Display, with SE 824 Standard Range Scanner, Windows Mobile 2003 operating syste |
| Used | Symbol | Mobile Computer | MC9060-KK0H9AEA7WW | MC9060-K, 128MB RAM, 802.11b, 28-key, Color Display, with Imager, Windows Mobile 2003 operating system, Bluetooth |
| Used | Symbol | Mobile Computer | MC9060-KK0HBEEA450 | MC9060-K, 64MB RAM, 802.11b, 53-key, Monochrome Display, with Imager, Windows Mobile 2003 operating system and C1D2 |
| Used | Symbol | Mobile Computer | MC9060-KK0HBEEA4WW | MC9060-K, 64MB RAM, 802.11b, 53-key, Monochrome Display, with Imager, Windows Mobile 2003 operating system |
| Used | Symbol | Mobile Computer | MC9060-KK0HBFEA4WW | MC9060-K, 64MB RAM, 802.11b, 43-key, Monochrome Display, with Imager, Windows Mobile 2003 operating system |
| Used | Symbol | Mobile Computer | MC9062-KKAHBFEA4WW | MC9062-K, 64MB RAM, 802.11b, 43-key, Color Display, with Standard Range Scanner, Windows Mobile 2003 operating system and GPRS: |
| Used | Symbol | Mobile Computer | MC9062-KKBH9FEA4WW | MC9062-K, 128MB RAM, 802.11b, 43-key, Color Display, with Imager, Windows Mobile 2003 operating system and GPRS: 900/1800/1900 |
| Used | Symbol | Mobile Computer | MC9062-KKBHBAEA7WW | MC9062-K, 64MB RAM, 802.11b, 28-key, Color Display, with Imager, Windows Mobile 2003 operating system, Bluetooth and GPRS: 900/1 |
| Used | Symbol | Mobile Computer | MC9062-KKBHBEEA7WW | MC9062-K, 64MB RAM, 802.11b, 53-key, Color Display, with Imager, Windows Mobile 2003 operating system, Bluetooth and GPRS: 900/1 |
| Used | Symbol | Mobile Computer | MC9063-KKEHBEEA4WW | MC9063-K, 64MB RAM, 802.11b, 53-key, Color Display, with Imager, Windows Mobile 2003 operating system |
| Used | Symbol | Mobile Computer | MC9063-KKFH9EEA7WW | MC9063-K, 128MB RAM, 802.11b, 53-key, Color Display, with Imager, Windows Mobile 2003 operating system, Bluetooth |
| Used | Symbol | Mobile Computer | MC9060-GF0HBAB00WW | MC9060-G, 64MB RAM, 28-key, Color Touch Display, with Standard Range Scanner, Windows CE.NET operating system |
| Used | Symbol | Mobile Computer | MC9060-GF0HBAEA4WW | MC9060-G, 64MB RAM, 28-key, Color Touch Display, with Standard Range Scanner, Windows Pocket PC operating system |
| Used | Symbol | Mobile Computer | MC9060-GF0HBEB00WW | MC9060-G, 64MB RAM, 802.11b, 53 key alphanumeric keypad, color display, XScale processor. Includes standard range 1D scanner, pistol grip, battery, & Windows CE .NET OS - This part is replaced by MC9090-GF0HBEGA2WW |
| Used | Symbol | Mobile Computer | MC9060-GF0HBEEA450 | MC9000-G, 64MB RAM, 53-key, Color Display, with Standard Range Scanner, Windows Mobile 2003 operating system |
| Used | Symbol | Mobile Computer | MC9060-GF0HBEEA4WW | MC9060-G, 64MB RAM, 802.11b, 53-key, Color Display, with Standard Range Scanner with Fuzzy Logic, Windows Mobile 2003 operating |
| Used | Symbol | Mobile Computer | MC9060-GF0HBEEA7WW | MC9060-G, 64MB RAM, 802.11b, 53-key, Color Display, with Standard Range Scanner, Windows Mobile 2003 operating system, Bluetooth |
| Used | Symbol | Mobile Computer | MC9060-GF0HBFB00WW | MC9060-G, 64MB RAM, 802.11b, 43-key, Color Touch Display, with Standard Range Scanner, Windows CE.NET operating system |
| Used | Symbol | Mobile Computer | MC9060-GF0HBGEA4WW | MC9060-G, 64MB RAM, 802.11b, 53-key, Color Display, with Standard Range Scanner, Windows Mobile 2003 operating system |
| Used | Symbol | Mobile Computer | MC9060-GF0HBHB00WW | MC9060-G, 64MB RAM, 802.11b, 53-key, Color Display, with Standard Range Scanner, Windows CE.NET operating system |
| Used | Symbol | Mobile Computer | MC9060-GF0HBJB00WW | MC9060-G, 64MB RAM, 802.11b, 53-key, Color Display, with Standard Range Scanner with Fuzzy Logic, Windows CE.NET operating syste |
| Used | Symbol | Mobile Computer | MC9060-GF0HBJEA4WW | MC9060-G, 64MB RAM, 802.11b, 53-key, Color Display, with Standard Range Scanner, Windows Mobile 2003 operating system |
| Used | Symbol | Mobile Computer | MC9060-GF0JAEB00WW | MC9060-G, 32MB RAM, 802.11b, 53-key alpha-numeric keypad, monochrome display, XScale processor. Includes standard range 1-D scan |
| Used | Symbol | Mobile Computer | MC9060-GF0JAGB00WW | MC9060-G, 32MB RAM, 802.11b, 53-key VT emulation, monochrome display, XScale processor. Includes standard range 1-D scanner, pis |
| Used | Symbol | Mobile Computer | MC9060-GF0JBEB00WW | MC9060-G, 64MB RAM, 802.11b, 53-key alpha-numeric keypad, monochrome display, XScale processor. Includes standard range 1-D scan |
| Used | Symbol | Mobile Computer | MC9060-GF0JBEEA4WW | MC9060-G, 64MB RAM, 802.11b, 53-key, Monochrome Display, with Standard Range Scanner with Fuzzy Logic, Windows Mobile 2003 opera |
| Used | Symbol | Mobile Computer | MC9060-GF0JBGB00WW | MC9060-G, 64MB RAM, 802.11b, 53-key, VT Emulation, Monochrome Display, with Standard Range Scanner, Windows CE.NET operating sys |
| Used | Symbol | Mobile Computer | MC9060-GF0JBJB00WW | MC9060-G, 64MB RAM, 802.11b, 53-key, Monochrome Display, with Standard Range Scanner, Windows CE.NET operating system |
| Used | Symbol | Mobile Computer | MC9060-GJ0HBAB00WW | MC9060-G, 64MB RAM, 802.11b, 28-key, Color Display, with Extended Range Scanner, Windows CE.NET operating system |
| Used | Symbol | Mobile Computer | MC9060-GJ0HBEB00WW | MC9060-G, 64MB RAM, 802.11b, 53-key, Color Display, with Extended Range Scanner, Windows CE.NET operating system |
| Used | Symbol | Mobile Computer | MC9060-GJ0HBEEA4WW | MC9060-G, 64MB RAM, 802.11b, 53-key, Color Display, with Extended Range Scanner, Windows Mobile 2003 operating system |
| Used | Symbol | Mobile Computer | MC9060-GJ0HBEEA7WW | MC9060-G, 64MB RAM, 802.11b, 53-key, Color Display, with Extended Range Scanner, Windows CE.NET operating system, Bluetooth |
| Used | Symbol | Mobile Computer | MC9060-GJ0HBFB00WW | MC9060-G, 64MB RAM, 802.11b, 43-key, Color Display, with Extended Range Scanner, Windows CE.NET operating system |
| Used | Symbol | Mobile Computer | MC9060-GJ0HBFEA4WW | MC9060-G, 64MB RAM, 802.11b, 43-key, Color Display, with Extended Range Scanner, Windows Mobile 2003 operating system |
| Used | Symbol | Mobile Computer | MC9060-GJ0HBGB00WW | MC9060-G, 64MB RAM, 802.11b, 53-key, VT Emulation, Color Display, with Extended Range Scanner, Windows CE.NET operating system a |
| Used | Symbol | Mobile Computer | MC9060-GJ0HBGEA4WW | MC9060-G, 64MB RAM, 802.11b, 53-key, Color Display, with Extended Range Scanner, Windows Mobile 2003 operating system |
| Used | Symbol | Mobile Computer | MC9060-GJ0HBJB00WW | MC9060-G, 64MB RAM, 802.11b, 53-key, Color Display, with Extended Range Scanner, Windows CE.NET operating system |
| Used | Symbol | Mobile Computer | MC9060-GJ0HBJEA4WW | MC9060-G, 64MB RAM, 802.11b, 53-key, Color Display, with Extended Range Scanner, Windows Mobile 2003 operating system |
| Used | Symbol | Mobile Computer | MC9060-GJ0JAEB00WW | MC9060-G, 32MB RAM, 802.11b, 53-key alpha-numeric keypad, monochrome display, XScale processor. Includes long range 1-D scanner, |
| Used | Symbol | Mobile Computer | MC9060-GJ0JBEB00WW | MC9060-G, 64MB RAM, 802.11b, 53-key, Monochrome Display, with Extended Range Scanner, Windows CE.NET operating system |
| Used | Symbol | Mobile Computer | MC9060-GJ0JBEEA4WW | MC9060-G, 64MB RAM, 802.11b, 53-key, Monochrome Display, with Extended Range Scanner, Windows Mobile 2003 operating system |
| Used | Symbol | Mobile Computer | MC9060-GJ0JBFB00WW | MC9060-G, 64MB RAM, 802.11b, 43-key, Monochrome Display, with Extended Range Scanner, Windows CE.NET operating system |
| Used | Symbol | Mobile Computer | MC9060-GJ0JBJEA4WW | MC9060-G, 64MB RAM, 802.11b, 53-key, Monochrome Display, with Extended Range Scanner, Windows Mobile 2003 operating system |
| Used | Symbol | Mobile Computer | MC9060-GK0HBEB00WW | MC9060-G, 64MB RAM, 802.11b, 53-key, Color Display, with Imager, Windows CE.NET operating system and Radio |
| Used | Symbol | Mobile Computer | MC9060-GK0HBEEA4WW | MC9060-G, 64MB RAM, 802.11b, 53-key, Color Display, with Imager, Windows Mobile 2003 operating system and Radio |
| Used | Symbol | Mobile Computer | MC9060-GK0HBEEA7WW | MC9060-G, 64MB RAM, 802.11b, 53-key, Color Display, with Imager, Windows Mobile 2003 operating system, Bluetooth |
| Used | Symbol | Mobile Computer | MC9060-GK0JBEEA4WW | MC9060-G, 64MB RAM, 802.11b, 53-key, Monochrome Display, with Imager, Windows Mobile 2003 operating system and Radio |
| Used | Symbol | Mobile Computer | MC9090-GJ0JBFGA2WW | MC9090-G, Wireless Gun Terminal: 802.11 a/b/g, Extended Range Laser (Lorax), Monochrome, 64MB, 43Key, CE 5.0, Bluetooth |
| Used | Symbol | Mobile Computer | MC906R-GH0JBEBR0US | MC9060-G RFID, RFID, SE824, Monochrome Display, 64MB, Windows CE .NET, Lithium-Ion battery. This part is replaced by MC906R-GH0JBEBR5US. |
| Used | Symbol | Mobile Computer | MC906R-GH0JBEBR5US | MC9060-G RFID, RFID, 1D Long Range Scanner (LORAX), Monochrome Touchscreen Display, 64MB RAM, 53 key Alphanumeric Keypad, Windows CE. |
| Used | Symbol | Mobile Computer | MC906R-GK0HBEER4US | MC9060-G RFID, RFID, Color Display, 64M, 53 key Alphanumeric, Audio. This part is replaced by MC906R-GK0HBEER5US. |
| Used | Symbol | Mobile Computer | MC906R-GK0HBEER5US | MC9060-G RFID, RFID, Imager, Color Display, 64MB, 53 key Alphanumeric Keypad, 802.11b, PocketPC OS. This part is replaced by MC9090-GK0HJEFR6US. |
| Used | Symbol | Mobile Computer | MC906R-GK0JBEER4US | MC9060-G RFID, RFID, Monochrome Display, 64M, 53 key Alphanumeric, Audio. This part is replaced by MC906R-GK0JBEER5US. |
| Used | Symbol | Mobile Computer | MC906R-GK0JBEER5US | MC9060-G RFID, RFID, Imager, Monochrome Display, 64MB, 53 key Alphanumeric Keypad, 802.11b, PocketPC OS. This part is replaced by MC9090-GK0HJEFR6US. |
| Refurbished | Symbol | Accessories | CRD9000-1001SR | (Kit, MC90 Series Single Slot Cradle, Spare Battery Charging, Includes Power Supply, AC Line Cord, and USB Communication Cable) |
| Refurbished | Symbol | Accessories | CHS9000-4001CR | (Kit, MC90 Series 4 Slot Charging Only Cradle, Includes Power Supply, AC Line Cord, and USB Communication Cable) |
| Refurbished | Symbol | Accessories | SAC9000-4000R | (Kit, MC90 Series 4 Slot Battery Only Charging Cradle, Includes Power Supply, AC Line Cord, and USB Communication Cable) |
| Refurbished | Symbol | Accessories | ADP9000-100R | (MC90 Series Single Slot Charging Cup, Includes Power Supply, AC Line Cord) |