Symbol MC70 - Motorola MC70 Series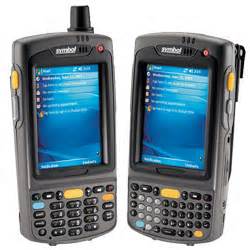 Buy - MC70 handhelds, chargers, accessories stocked in volume here!

Repair - Simple and Economic repair solutions for MC70 scanners. Extensive stock and economic pricing.

Rent - MC70 scanner systems tailored to your application - in small, medium, and large quantity. Fulfill your seasonal / cyclical business fluctuations.
Enter your details below and we will provide immediate service! Email: sales@usedbarcode.net

Detail, Quality, and Answers that you expect from a specialist. Phone: (770) 973-2862
- Testimonials Below.
- Warranty Options.
- 30-Day Money Back Guarantee.
- Free Consultations.
Testimonials :
"Called Enterprise Data Resources for some information on my Motorola equipment, and their Technical support is by far, the best we have encountered. With well asked question got to the bottom of our issues. Not only that, the suggestion made from the tech actually solved our longtime mystery." - Efren 6/19/2014
"Fast shipment and great costumer service. Far beyond expectations. You can buy anything from EDR ! They will walk you through until unit up and running!" - Michael 5/1/13
"I would highly recommend this seller to anyone who asks. Prompt, accurate, overall smooth transaction" - Ken 2/14/14
"Provided courteous and helpful advice by phone for setup; totally above and beyond others. Items perfect and as described." - Eric 3/28/14
The Symbol MC70, also known as the Motorola MC70 provides everything your mobile task workers need to achieve a new level of enterprise productivity — whether they are in the warehouse, on the delivery route, on the retail floor taking inventory, or in a hospital.
Lightweight yet rugged
Built for year-round use in nearly any environment with industry-leading double impact testing (drop and tumble), IP54 sealing, and integrated antennas.

Intel™ XScale PXA270 @ 624 Mhz
Offers desktop-like multimedia performance with lower power requirements.

Microsoft™ Windows Mobile 5.0 Premium or Phone Edition
Integrated multimedia and persistent memory.

Voice and high-speed wireless data
WWAN: GSM/EDGE and CDMA-EVDO Rev. 0 compatibility.

WLAN: 802.11a/b/g tri-mode radio; comprehensive VoIP support
Provides cost-effective voice and data connectivity in the office.

WPAN: Bluetooth v1.2, Class II
Includes wireless modem, printing synchronization, and more.

High quality speakerphone, microphone and transducer
Offers superior voice quality and performance.

On-board advanced data capture: 1D and 2D bar code scanning from near contact to 55 in./139.7cm.
Automate and error proof data collection and increase productivity.

3.5 in. QVGA color screen
Easy to view in any lighting.

Multiple keyboard options: QWERTY or numeric
Meets diverse user and application needs.

Support for standard and extended cards
Provides additional memory and expandable functionality.

Multiple battery options: standard and extended
Ample power for full shifts in nearly any environment.
The Symbol MC70 is also known as Motorola MC70, Symbol MC 70, Motorola MC 70, Symbol MC7090, Motorola MC7090, Symbol MC7094, Motorola MC7094, Symbol MC7004, Motorola MC7004, Symbol MC7095, Motorola MC7095, MC70, MC 70, MC7004, MC7090, MC7094, MC7095, MC 7090, MC 7094, MC 7095, MC 7004, Symbol Motorola MC70, Symbol Motorola MC 70, Symbol Motorola MC-70.
| Cond | Mfg | Cat | Part Number | Description |
| --- | --- | --- | --- | --- |
| NIB | Symbol | Mobile Computer | MC7094-PKCDCQRA9WR | MC7094, 2D, GPRS, WLP, 128/128, QWERTY, WINDOWS MOBILE 6.1, 2X |
| NIB | Symbol | Mobile Computer | MC7090-PU0DCRFA7WR | MC7090, 1D, WLAN, 128/128, NUM, WINDOWS MOBILE 5, BT, 1X |
| NIB | Symbol | Mobile Computer | MC7094-PUCDCQRA9WR | MC7094, 1D, GPRS, WLP, 128/128, QWERTY, WINDOWS MOBILE 6.1, 1.5X |
| NIB | Symbol | Mobile Computer | MC7094-P2CDCQHA96R | MC7094, 2D, GPS, WLP, 128/128, QWERTY, WINDOWS MOBILE 5, 1.5X |
| NIB | Symbol | Mobile Computer | MC7094-PUCDCRRA9WR | MC7094, 1D, GPRS, WLP, 128/128, NUM, WINDOWS MOBILE 6.1, 1.5X |
| NIB | Symbol | Mobile Computer | MC7094-PKCDCQHA9WR | MC7094, 2D, GPRS, WLP, 128/128, QWERTY, WINDOWS MOBILE 5, 1.5X |
| NIB | Symbol | Mobile Computer | MC7090-PU0DCQQA7WR | MC7090, 1D, LP, 128/128, QWERTY, WINDOWS MOBILE 6.1, 1.1X |
| NIB | Symbol | Mobile Computer | MC7094-PKCDCQRA8WR | MC7094, 2D, GPRS, WLP, 128/128, QWERTY, WINDOWS MOBILE 6.1, 1.5X |
| NIB | Symbol | Mobile Computer | MC7090-PU0DJQFA7WR | MC7090, 1D, WLAN, 64/128, QWERTY, WINDOWS MOBILE 5, BT, 1X |
| NIB | Symbol | Mobile Computer | MC7094-PKCDJQHA6GR | MC7094, 2D, GPRS/LAN, 64/128, QWERTY, WINDOWS MOBILE 5, BT, TAA |
| NIB | Symbol | Mobile Computer | MC7094-PKCDJQHA8WR | MC7094, 2D, G/LAN, 64/128, QWERTY, WINDOWS MOBILE 5, BT, 2X |
| NIB | Symbol | Mobile Computer | MC7094-PKCDJRHS7WR | MC7094, 2D, G/LAN, 64/128, NUM. WINDOWS MOBILE 5, SPN, BT, 1X |
| New-In-Box | Motorola | Mobile Computer | MC7090-PK0DCQFA8WR | MC7090, 1D / 2D Imager Scanner, WLAN, 128/128, QWERTY, WINDOWS MOBILE 5, BT, 2X |