Symbol WT4090 - Motorola WT4090 Wearable Terminal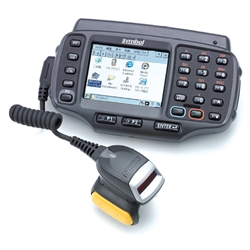 Buy - WT4090 terminals, kits, peripherals, and accessories stocked in volume here!


Repair - Simple and Economic repair solutions for WT4090 equipment. Extensive stock and economic pricing.

Rent - WT4090 terminal kits custom-suited to your application requirements. Fulfill your seasonal or cyclical business fluctuations.
Enter your details below and we will provide immediate service! Email: sales@usedbarcode.net

Detail, Quality, and Answers that you expect from a specialist. Phone: (770) 973-2862
- Testimonials Below.
- Warranty Options.
- 30-Day Money Back Guarantee.
- Free Consultations.
Testimonials :
"Called Enterprise Data Resources for some information on my Motorola equipment, and their Technical support is by far, the best we have encountered. With well asked question got to the bottom of our issues. Not only that, the suggestion made from the tech actually solved our longtime mystery." - Efren 6/19/2014
"Fast shipment and great costumer service. Far beyond expectations. You can buy anything from EDR ! They will walk you through until unit up and running!" - Michael 5/1/13
"I would highly recommend this seller to anyone who asks. Prompt, accurate, overall smooth transaction" - Ken 2/14/14
"Provided courteous and helpful advice by phone for setup; totally above and beyond others. Items perfect and as described." - Eric 3/28/14
WT4090 Wearable Terminal
Hands-free
Enable workers to easily handle materials and parts while interacting with the mobile computer.

High-performance operating system
Power to run nearly any enterprise application.

WLAN802.11 a/b/g
Provide up-to-minute information through real-time processing that improves decision making, error reduction, and enhance user productivity.

Ruggedized design
Dependable operation in challenging environments, including cooler and freezer; reduce terminal replacement costs; and maximize uptime: IP54 sealing and 4 ft./1.2 m drop specification across entire operating temperatures range.

Wide temperature ranges of operation
Operation in a wide range of temperatures, including -20°C in freezers (-30°C with freezer pouches).

Ergonomic
Ensure user comfort and safety to increase productivity and decrease possibility of injury.

2.8" color QVGA display with backlight
Excellent at-glance readability in nearly any lighting condition.
The Symbol WT4090 is also known as the Motorola WT4090, Symbol WT4000 series, Motorola WT4000 series, Symbol WT4070, Motorola WT4070, WT4090, WT 4090, WT-4090, Wrist Terminal 4090, Symbol WT 4090, Motorola WT 4090, Symbol Motorola WT4090, WT4090-N2S1GER, WT4090-N2S0GER, WT4090-N2SOGER, WT4090-N3S0GER, WT4090-N3S1GER.
| Cond | Mfg | Cat | Part Number | Description |
| --- | --- | --- | --- | --- |
| Refurbished | Motorola | Wearable Terminal | WT4090-N2H0GER | (WLAN802.11a/b/g, 2-color keypad, 128MB/64MB, color non-touch screen, Windows CE 5.0 Professional, Extended battery) |
| Refurbished | Motorola | Wearable Terminal | WT4090-N2S0GER | (WLAN802.11a/b/g, 2-color keypad, 128MB/64MB, color non-touch screen, Windows CE 5.0 Professional, Standard battery) |
| Refurbished | Motorola | Wearable Terminal | WT4090-N2S1GER | (WLAN802.11a/b/g, 2-color keypad, 128MB/128MB High Memory, color non-touch screen, Windows CE 5.0 Professional, Standard battery) |
| Refurbished | Motorola | Wearable Terminal | WT4090-N2H1GER | (WLAN802.11a/b/g, 2-color keypad, 128MB/128MB High Memory, color non-touch screen, Windows CE 5.0 Professional, Extended battery) |
| Refurbished | Motorola | Wearable Terminal | WT4090-T2S1GER | (WLAN802.11a/b/g, 2-color keypad, 128MB/128MB High Memory, color-touch screen, Windows CE 5.0 Professional, Standard battery) |
| Refurbished | Motorola | Wearable Terminal | WT4090-T2H1GER | (WLAN802.11a/b/g, 2-color keypad, 128MB/128MB High Memory, color-touch screen, Windows CE 5.0 Professional, Extended battery) |
| Refurbished | Motorola | Wearable Terminal | WT4090-N3S0GER | (WLAN802.11a/b/g, 3-color keypad, 128MB/64MB, color non-touch screen, Windows CE 5.0 Professional, Standard battery) |
| Refurbished | Motorola | Wearable Terminal | WT4090-N3H0GER | (WLAN802.11a/b/g, 3-color keypad, 128MB/64MB, color non-touch screen, Windows CE 5.0 Professional, Extended battery) |
| Refurbished | Motorola | Wearable Terminal | WT4090-N3S1GER | (WLAN802.11a/b/g, 3-color keypad, 128MB/128MB High Memory, color non-touch screen, Windows CE 5.0 Professional, Standard battery) |
| Refurbished | Motorola | Wearable Terminal | WT4090-N3H1GER | (WLAN802.11a/b/g, 3-color keypad, 128MB/128MB High Memory, color non-touch screen, Windows CE 5.0 Professional, Extended battery) |
| Refurbished | Motorola | Ring Scanner | RS409-SR2000ZZR | (RS409 Ring Scanner Assembly, 1D laser SE955, cabled to wrist-mounted WT4000 terminal) |
| Refurbished | Motorola | Ring Scanner | RS409-SR2000ZLR | (RS409 Ring Scanner Assembly, 1D laser SE955, cabled to hip-mounted WT4000 terminal) |